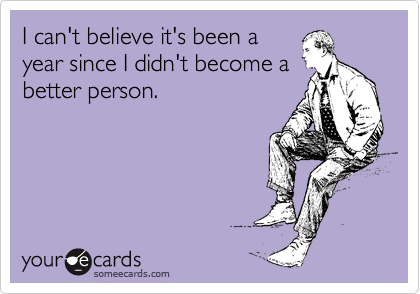 The new year is here and that means new resolutions, or if you're like most people, you're just recycling resolutions from last year, and the year before that.  Let me guess, your resolutions are somewhere along the lines of exercising more, losing weight, eating better, spending less money, or some other bullshit that you're bound to fall off the wagon before the month is up.
Instead, how about making a resolution(s) to improve yourself professionally?
It may be easy to confuse resolutions with performance goals you have set for yourself.  Remember, a resolution is something you do to improve yourself, or something you do for others.  Unless you're the philanthropic type, lets focus on the former.
Keep your resolutions simple and realistic.  Below are examples.
Say hello to everyone you walk past.
Do anything else but work during the lunch break.
Go to more company functions to network.
Respond to emails faster.
Less Internet, more work.
Make an agenda for every meeting.
Talk less, listen more.
The end game is to have resolutions that will evolve into a routine.
Writing down your resolution on a small sticky note and affixing it to somewhere within eye's view will help you stay on course.
Happy New Year!